ServiceDesk Plus Solutions
ServiceDesk plus consulting services is designed to help small, medium and large businesses which leverage the best out of ServiceDesk Plus solutions. Service Desk plus experts work with your IT team to meet delivery milestones helping businesses to grow and think without limitations.
We understood our prospects and customers very diligently that providing a compelling end to end solution alongside a comprehensive consulting service would make the entire effort fruitful. Hence we are glad to inform you that our consultation for implementing ManageEngine ServiceDesk Plus at your organization would be carried out the following way.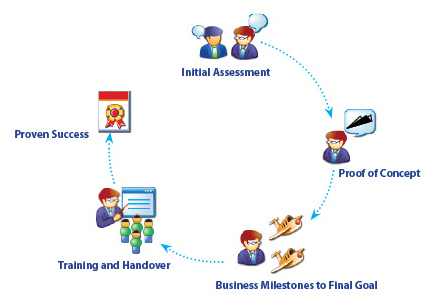 ServiceDesk Plus Consulting + Your Business
Every Business relies on IT as a key business enabler. As businesses constantly focus on growth, they change directions frequently. This mounts pressure on the IT teams to keep the pace. The IT teams are expected to rapidly learn new technologies and products to meet with the growing demands without, compromising on quality of service levels to existing users. ServiceDesk Plus Consulting helps businesses to stay focused on their core expertise without being caught in technology and product implementation problems.
ServiceDesk Plus Experts + Your IT Team
ServiceDesk Plus Consulting works with your business and IT teams to understand your business goals and priorities. ServiceDesk Plus Experts have years of experience in analyzing customer problems, designing, and delivering successful enterprise products widely used around the world. ServiceDesk Plus Experts make sure that ServiceDesk Plus Solutions are performing at their best and work alongside with your IT teams to meet the delivery milestones.
ServiceDesk Plus Solution + Productive Enterprise IT
ServiceDesk Plus offers feature-rich solutions with simple and easy management console. With ServiceDesk Plus solutions, you can implement comprehensive management solution across different enterprise layers such as, Users, Network and Applications.
ServiceDesk Plus Consulting Approach
ServiceDesk Plus Consulting understands that every business is unique and has different priorities. ServiceDesk Plus Experts work with the management team to understand the business needs and goals. The final Goal is broken down into business milestones with measurable KPI. ServiceDesk Plus Experts work with your IT team to ensure that business milestones are met over time tending towards the final goal.
ServiceDesk Plus Consulting offers a phased approach:
Initial Assessment
ServiceDesk Plus Experts meet the business stakeholders to understand what business exactly expects IT to deliver. The key deliverables are determined based on current scenario and growth prospects providing room to a set of expected changes. ServiceDesk Plus Experts work with IT team members to understand the current IT environment setup, its advantage and limitations. The complete assessment study helps ServiceDesk Plus Experts to understand where IT stands.
Based on the complete study the key deliverables are grouped into delivery milestones based on business priorities. Delivery milestones with measurable KPI, final goals agreed upon by business and deliverables by IT are clearly defined. This helps Business and IT informed in every step of development.
Proof of Concept
ServiceDesk Plus Experts implement solutions on a smaller scale and understand how it works for a selected audience and measure the KPI. Changes and tweaks are made in POC setup until KPI reaches the defined business expectations.
Implementation business milestones towards to final goal
Once POC is successful, the model is implemented across businesses as per delivery milestones ensuring that the KPI standards are maintained. ServiceDesk Plus Experts actively engage key team members during implementation cycles. And the business stakeholders are constantly updated on the progress.
Training and Handover
When Key Implementations are successfully completed, the ServiceDesk Plus Experts will handover the complete setup to the IT team. Detailed training covers the complete process handled by the ServiceDesk Plus Experts and the roles that are to be played by the IT team.
Support
ServiceDesk Plus Support assists customers at every step during implementation and post Implementation process. Customers are offered a support contact to resolve all the key issues arising from implementation.
ServiceDesk Plus Consulting – Proven Success
ServiceDesk Plus Experts have helped customers implement solutions for organization across the globe such as Time Warner, Hitachi, Nortel, Motorola, Nokia, Digicel, Trimmasters, Denihan Hospitality Group and so on. ServiceDesk Plus Consulting has always exceeding customer expectations resulting in repeated consulting engagements for different Business Units and Geographical locations.
To engage in consulting, please contactServiceDesk Plus Support