Automate generation of Nested Group Membership Reports
One of the key reports that IT security managers seek often is Nested Group Membership report. With ADManager Plus, you can have this report generated automatically (at the time specified by you) and delivered to your inbox.
Advantages of Automated Generation of Nested Group Membership Report
Monitoring an Active Directory object's group membership is crucial, but one cannot always be glued to the reporting tool. It helps to have crucial reports, such as this, generated automatically and delivered through email; that way you stay in touch with them even while you are away.
Getting a complete view of group memberships - direct or indirect - expecially using native tools, PowerShell, etc. is very tough (Read the next paragraph). But in ADManager Plus it's only a point-n-click activity.
When Active Directory Groups go nesting...
Extracting a complete group membership report using LDAP query or scripting technique is not so easy; one cannot go about querying an object's "member of" attribute to get the names of every associated group. An Active Directory object, such as a user or group (for which group membership is queried), might very well have transitive membership with several groups by inheritance. For example, a user might gain indirect membership with group B while becoming a member of group A, just because A is already a member of B.
That was only a simple example with 2 levels of group memberships. However, when the levels of a group membership go up a few notches, then trailing an object's indirect group memberships becomes extremely tough - even for advanced scripters. Take a look at the following diagram which illustrates this point: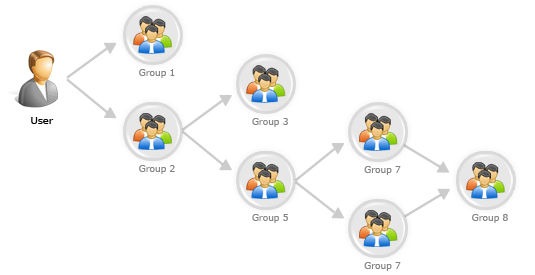 ADManager Plus Advantage
Our "Nested Group Membership" reports tabulates all the groups that a user is member of - whether directly or indirectly - at the click of a button. All you have to do is provide the user name and extract the report.
Membership details of the nested groups...
An important advantage of this report is that you get to view a detailed summary of "members" and "member of" attributes of all the nested groups associated with a given user from one single screen.
Automation & Mail Delivery of Nested Group Membership Report
Here's where you set up a report generation schedule and provide addresses that this report should be emailed to.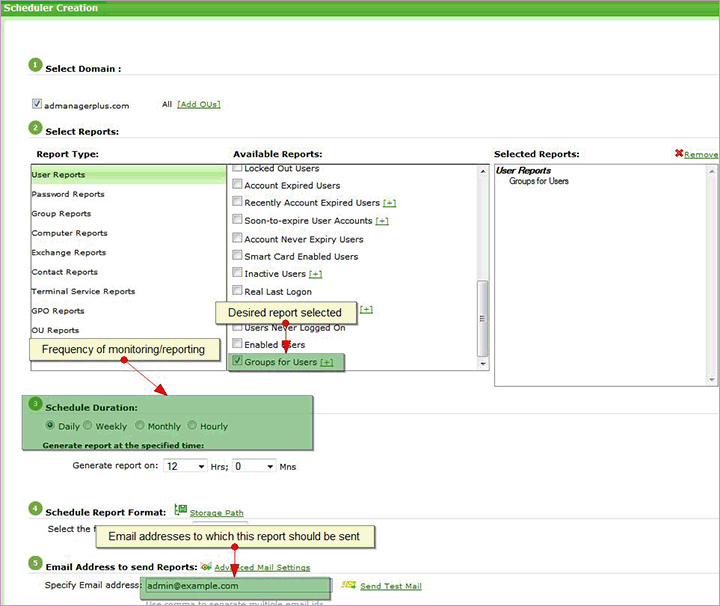 Featured reports
Other features
Need Features? Tell Us
If you want to see additional features implemented in ADManager Plus, we would love to hear. Click here to continue