Windows Active Directory Explorer and Search
ADManager Plus's 'AD Explorer' makes it possible to view all the containers and accounts of any domain in your Active Directory, similar to the native ADUC (Active Directory Users and Computers) console, right inside its web-based console. Unlike ADUC, when you click on any object in the tree, this Active Directory management tool makes it possible to view in a single screen, the complete list of:
All the properties of the object.
All the permissions (Access Control Entries) on this object.
For example, when you click on a user account in AD Explorer's tree view of your domain, you can view:
1. All the properties of the user account, including: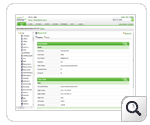 Account details like Display Name, Logon Name, Member Of, Account Status, etc.
Contact details like Address information, Organization information, Telephone Number, etc.
Profile information like Profile Path, Script Path, etc.
Exchange Server-specific information like Display Name, Delivery Restrictions, Storage Limit, etc.
Object-specific information like Object created date and time, object modified date and time, etc.
2. All the permissions on the user account
The 'security' link lists objects that have permissions on this user account in the form of its Access Control Entries (ACEs). For each ACE, you can view the: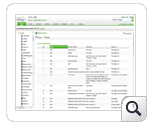 Security Principal that has permissions on this user.
Type of access control: Allow / Deny.
Permissions assigned to the security principal (Full Control, Read Permissions, Read Remote Access Information, Modify Owner, etc.).
Level or Scope of the specified permissions (This object only, This object and all child objects, etc.).
Active Directory Search
The search option in ADManager Plus, the web-based Active Directory management tool, helps in locating any object present in your Active Directory. Based on the object / account to be located and the search scope, you can use any one of the following searches:
Employee Search
This search option allows you locate any user or employee present in your Active Directory domain using their Name, sAMAccount Name, E-mail Address, Telephone Number or Location. The highlights of this 'Employee Search' include:
It is a web-based search.
You don't have to logon to ADManager Plus to use this search.
You can restrict the employee information that should be displayed in the search result. For example, you can configure this search to show only the Full Name, E-mail Address, Title and Department of the matching users in the search result.
Use the free download of this Active Directory tool's trial version to experience the absolute ease with which its search options help you locate any employee in your organization.
AD Objects Search
This is a multi-domain, multiple objects search. That is, this search option can be used to locate any User, Computer or Group object present in any of your Active Directory domains. Advantages of 'AD Search' include: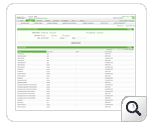 Web-based, Multi-domain and multiple objects search.
The search scope can be restricted to specific OUs or Domains.
If needed, you can restrict the search scope to specific types of object like Users, Groups and Computers or Users and Groups or Users and Computers, etc.
Multiple Objects Search: You can locate any user, computer or group using this search option.
You can fetch the list of only the users or computers or groups from multiple or all the domains of your Active Directory.
While this tool makes locating any Active Directory object a simple and quick tasks, it makes Active Directory Management far simpler. This tool even offers more than 150 pre-built Active Directory reports that fetch information from every nook and corner of your Active Directory; you can even perform management actions (unlock user accounts, reset passwords, etc.) right from these reports. You can accomplish all these with just mouse-clicks!
Featured links
Other features
Make your everyday Active Directory management tasks easy and light with ADManager Plus's AD Management features. Create, modify and delete users in a few clicks!
A catalog of almost every report that you will need from your Active Directory! Comprehensive and Reliable reporting. Schedule reports to run periodically. Manage your AD right from within the reports.
Unload some of your workload without losing your hold. Secure & non-invasive helpdesk delegation and management from ADManager Plus! Delegate powers for technician on specific tasks in specific OUs.
Create and manage Exchange mailboxes and configure mailbox rights using ADManager Plus's Exchange Management system. Now with support for Microsoft Exchange 2010!!
Get rid of the inactive, obsolete and unwanted objects in your Active Directory to make it more secure and efficient...assisted by ADManager Plus's AD Cleanup capabilities.
A complete automation of AD critical tasks such as user provisioning, inactive-user clean up etc. Also lets you sequence and execute follow-up tasks and blends with workflow to offer a brilliant controlled-automation.
Need Features? Tell Us
If you want to see additional features implemented in ADManager Plus, we would love to hear. Click here to continue