Heterogeneous Database Monitoring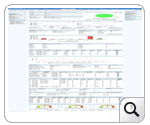 ManageEngine® Applications Manager enables you to monitor your heterogeneous database environment from a single web console.
For example, if you use both Oracle and MySQL for running your your mission critical application, then from a single web console, you can monitor the performance metrics of both Oracle and MySQL.
Applications Manager supports monitoring of the following databases out-of-the-box:
For database server monitoring, Applications Manager connects to the database and ensures it is up. It executes database queries to ensure performance, collects performance statistics and also notifies through alarms, if the database performance goes beyond a given threshold.
Applications Manager Database Capabilities includes:
ensuring high availability of database servers
keeping tab on the database size, buffer cache size, database connection time
analyzing the number of user connections to the databases at various time intervals
Show me the differences between Free/Professional/Enterprise editions!
For more information, refer to Database Monitoring Online Help.
Find out why AC Nielson, Amazon, Continental Airlines, Cummins, EDS, GE, Hughes Network Systems, McKesson, MetLife, PFizer, SDAC Harvard and many other customers chose Applications Manager to reliably manage their applications, databases and servers.

Take Control of Your Applications and Servers Now!