Gain insights from QA to production!
Are your applications failing while in production?
Do you want to ensure application quality before going into production?
Are you unable to meet end user Service Levels agreed for your Applications ? If you answered yes to any of these questions, then read on.
ManageEngine Application Performance Management Solution helps optimize and deliver business critical web applications that meet end user service levels. It is a solution that helps applications team from the quality stage to operations and provides relevant information for all the stakeholders in the Enterprise Performance Management scenario.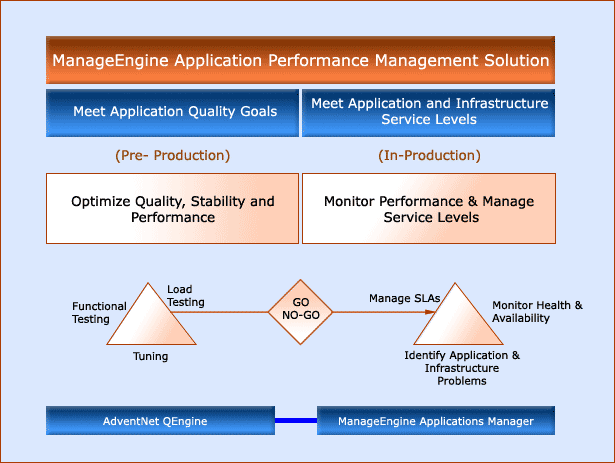 Identify Bugs Before Production
Functional Testing: Testing is mandatory to ensure application quality. These tests have to be automated to make it effective as that's the best way to ensure consistency and more control on the project execution. ManageEngine QEngine can help automate functional testing and helps you be in control.
Performance Testing / Load Testing: Demanding applications need, extensive testing before production rollout. Performance testing ensures your applications can scale to the demands of a high number of end users.
ManageEngine QEngine can help you achieve both Functional and Performance Testing via its powerful browser architecture. It makes it easy and cost effective for development and QA Teams to test their applications during every stage of the application life cycle.
Detect, Isolate and Resolve performance problems in Production
Load testing, functional testing, cross-browser testing are common processes that need to be conducted before a business critical application goes into production. The ability to test and optimize your applications before getting into production helps prevent unexpected events.
In all cases, putting out these web applications are just the beginning to ensure business needs are met. Once in production, you need to ensure that your applications are running smoothly and this is when an in-production application management solution is required. The benefit of this is improved ROI, a means of ensuring optimal usage of your application, and improved productivity among IT staff. ManageEngine Applications Manager can help you meet this need for your production applications.
ManageEngine Applications Manager brings you a single console to monitor all your business applications and application infrastructure components like servers, databases, SAP, portals and Web Services that are in production. Additionally the business centric view to monitoring all the technology components makes troubleshooting performance issues easier for the Operations staff.
ManageEngine Performance Management for the Enterprise provides:
A complete solution that spans all the way from the quality stage to operations
A means to ensure application quality before rolling into production
Improved application performance and availability management
Enterprise Application Performance Management at an affordable price
ManageEngine Performance Management solution hence becomes a single point of contact, for all stakeholders in the enterprise:
Developers/QAs - Test and certify Web Applications
IT Administrators - Configure servers and Web Applications to monitor and analyze trends
IT Operators - Pickup alarms and take corrective actions
IT Managers - Define and ensure SLAs are met.
With test scripts and regression reports in QEngine for QA and real time performance metrics for IT Administrators and Managers, in ManageEngine Applications Manager, you are in a better position to manage the application performance in your enterprise.
Note:
ManageEngine Applications Manager is an integrated Application Server, Database, Web Services and System Management software that can help the operations team ensure their business critical applications run smoothly.
ManageEngine QEngine is a Test Automation tool used for Web Application Functionality and Performance testing. It supports testing of applications developed using HTML, JSP, ASP, .NET, PHP, JavaScript/VBScript, XML, SOAP, WSDL, e-commerce applications, traditional client/server etc.