WebNMS JMX Monitoring Agent - RMI Adapter
Monitoring WebNMS JMX Agent - RMI Adapter made easy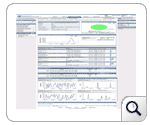 Applications Manager provides in-depth availability and performance monitoring of JMX resources. Applications Manager connects to the WebNMS JMX agent agent to check availability and response time of RMI Connector at regular intervals of time. Also Custom attributes of the WebNMS JMX agent agent can be viewed.
The WebNMS JMX agent - RMI Adapter management feature helps optimize performance and also provides comprehensive management reports. It ensures availability through automated event escalation via email, SMS etc. and helps taking corrective action by executing user scripts that can help, restart a service etc.
The components that are monitored in RMI Adapter:
| | |
| --- | --- |
| Availability | Checks for the availability of RMI Adapter. |
| Response Time | Gives the response time of RMI Adapter. |
WebNMS JMX Agent- RMI AdapterMonitoring Capabilities
Out-of-the-box management of RMI Adapter.
Monitors performance statistics such as availability and response time.
Based on the thresholds configured, notifications and alarms are generated if any attribute within the system has problems. Actions are executed automatically based on configurations.
Performance graphs and reports are available instantly. Reports can be grouped and displayed based on availability, health, and connection time.
Delivers both historical and current RMI Adapter's performance metrics, delivering insight into the performance over a period of time.